Reveal
I have the best Sistah ever. EVER y'all.
Jessi was so awesome to me and as an added bonus I made a wonderful new friend in the process! :)
Her reveal package arrived in the mail today, which was a plesant surprise. Actually, there was one of those dreaded pink "Hey, why aren't you ever home to get your mail" slips in the box but when I read it it said "Package behind planter next to steps" and I did a little happy dance right there on the sidewalk.
Inside...oh man. Well, you can look because I'm still freaking out from happiness over it all.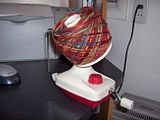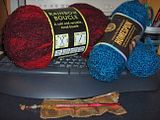 YES. That is a yarn winder. And it belongs to me! *happy dance* I immediately had to try it out with some of the wool I dyed, it works like a dream.
She also send rainbow boucle for a shawl I want to make, some Lion Brand homespun in a color I can't get around here and a gorgeous bead decorated hook that I can't wait to start using. She sent a bag of scraps for my monster afghan project as well, but those didn't make it into the photo as I have already put them in my workbasket. Exactly what I need for the project though!
Thank you Jessi, you were such an awesome Sistah! :)